The most powerful
Anti-Oxidant available
Meridium®
6x more power than citrus antioxidants. Scientific research indicates that the active ingredients in Meridium, when taken daily, can help your body eliminate metabolic waste and may prevent the harmful chemical reactions associated with metabolic stress, exposure to environmental pollution, and mental stress.
Xanthohumol – Our Foundation
Meridium is a proprietary, patented and patent pending, enhanced therapeutic formulation called LucedinTM xanthohumol, the bioactive molecule found in hops. We offer the only water soluble extract of xanthohumol that can be significantly absorbed and metabolized in your body and plays an active role in counteracting a wide range of conditions associated with chronic health problems.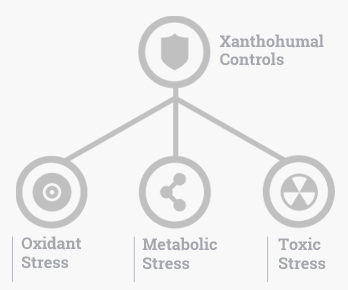 The research driven benefits
Reinforces healthy metabolic activity
Enhances the elimination of metabolic waste and toxins
Eliminate free radicals and sources of oxidative stress
Protects against viruses, bacteria and fungi
Helps maintain a healthy heart and cholesterol levels
Reduces the long-term risk of serious health problems
Helps fight poor sleep and insomnia
Accelerates weight loss and helps keep weight off
Improves skin tone and color
Helps maintain healthy eye cornea and retina
Acts as a non-thermogenic energy enhancer
Helps maintain mood and focus
Reduce the risk
Everything we do, whether we are healthy or not, produces metabolic stress, metabolic waste and metabolic toxins. We generally aren't able to eliminate the harmful by-products of metabolic activity as fast as we produce them. And so they accumulate in our bodies.
Fight back with Meridium.